No advanced registration is required for our Weekly Community Classes, just arrive 10-15 minutes before your class begins to sign-in and pay.
Weekly Community Class prices:
Single session, drop-in: $20 (or, $10 with a valid Student ID or Hanscom Air Force Base credentials)
Five-session package: $90
Ten-session package: $160
Restorative Yoga prices (Tuesday evenings):
Single session, drop-in: $30
Monthly class, $100
Monday
Tuesday
10:00am - 11:00am
Qigong (Maryellen)
7:00pm - 8:00pm
Restorative Yoga (Silva)
Wednesday
Thursday
9:00am - 10:00am
Yoga – All Levels (Jennifer)


Canceled on Thursday, Nov. 22nd!

10:00am - 11:15am
Yoga Melt (Silva)
Friday
Sunday
10:00am - 11:30am
Power Stretch (Steve)
12:00pm - 1:30pm
Melt & Restore (Dayle)
12:00pm - 1:30pm
Melt & Restore (Steve)
Yoga – All Levels (with Jennifer)
A Yoga class rooted in breath-synchronized movements to help you reduce stress, and relax your mind. Modifications to posture will be available to make the course accessible to students of all levels. Drop-ins are always welcome!
Restorative Yoga (with Silva)
Do you need assistance calming your mind and/or downshifting the tension level in your physical body to help you transition into restful sleep? Silva will provide you with opportunities to explore restful yoga poses while incorporating mindful breathing in a warm and calm setting.
Qigong (with Maryellen)
Qigong practice is a series of flowing and repeated movements, stretches and breathing exercises that are very easy to learn and may be done anywhere and without any special equipment. No prior experience is necessary as Qigong may be done by individuals of all ages and modified to each person's level as they practice. Drop-ins are always welcome!
Melt and Restore (self-care class, with Steve and Dayle)
This is a specialized 90-minute small-group class which combines Trigger Point Therapy (using foam rollers and tennis balls), Functional Yoga Stretches with breathing, and Restorative Yoga postures. Drop-ins are always welcome!
Power Stretch (with Steve)
Explore how your body feels as you move, stretch and go inward. This class works with the deep tissue, fascia and tendons and lubricates, stretches and releases tightness, stress and more. Steve's caring guidance creates a safe, calming environment to practice. Drop-ins are always welcome!
All of our classes are conducted at an average room temperature of 70° – 74° F. Our programs are movement-based, so wear something you are comfortable moving in. You may perspire, so wear something breathable and moisture wicking, such as workout shorts, t-shirts, or sports tops.
Metered parking is available in the adjacent Depot Square lot and on nearby streets
Arrive 10-15 minutes early to sign-in and pay (a changing room is also available for your convenience)
Hydrate well before your class and bring a full water bottle with you (bottled spring water is also available for $1.00)
Bring your yoga mat (yoga mats are also available for use free of charge)
Bring a small towel or facecloth
Pre-registration for all Events is required!
Please call Yoga Depot at 781-372-1000 or email info@yogadepot.net to register.
Please note that Weekly Community Class cards cannot be applied toward Event fees.
---
November, 2018
Introduction to the 3rd Chakra and Namokar Mantra Healing System, with Angela Wasson
Tuesday, November 27th, 2:00pm-4:00pm ($35)
This is a monthly ongoing workshop where participants will focus on learning about and activating the chakras. Namokar Mantra as a Sound Vibration Self-Healing System will also be incorporated into the workshop. Each month there will be an overview of one of the seven chakra centers. We will learn and do yoga practices that activate the chakras, including slow, gentle yoga movement, breathwork, chanting, sound vibration, meditation and relaxation. Workshops will be held the fourth Tuesday of every month. Participants may attend one or all of the workshops.
Angela Wasson is a certified Pathways Yoga System Teacher and Pathways Yoga System Teacher Trainer. She has been practicing and teaching yoga since 1992. She has studied various yoga styles and healing modalities. Her focus of study has been with the Jain, Sivananda and Satyananda yoga and healing systems.
---
December, 2018
Introduction to Face Yoga, with Mary Niederkorn
Saturday, December 8th, 10:00am-11:30am ($35)
Blessed by a grandmother who had no wrinkles at 85, an obsession with Face Yoga was just a "matter of time." Although there are some skincare products that may address superficial imperfections, they can do very little to remedy the effect of gravity on the muscles of the face. Come to class and see for yourself why the makeup artists on film shoots always ask Mary where she got her work (i.e., plastic surgery) done.

Mary is an actress originally from the Midwest, who moved out to Boston to go to grad school after singing at Tanglewood a million summers ago. She studied Iyengar Yoga in Chicago and taught yoga to teens at the Institute in the Berkshires. She was diagnosed with ovarian cancer 15 years ago and became a student of holistic healing and spiritual practice to enhance wellness.
---
Coming in 2019
Siddha Healing, with Seth Monk
Friday, January 4, 2019
More details to follow!
Join world renowned former Buddhist monk and Siddha Healer Seth Monk for a special healing event. Using a crystal mandala, channeled energies, sacred geometry, and spirit guides, Seth will lead us on a journey of restoration, awakening, and empowerment. Participants can expect to lie down, relax, and receive the channeled energies which can be beneficial for the body, mind and soul. No previous practice or beliefs are necessary, just an intention to relax and heal!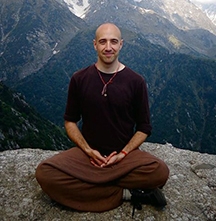 A native of Andover, MA, Seth has over 15 years of meditation practice that includes time as an ordained Buddhist monk. He is also versed in the concepts of Chinese medicine and community living, and is a staunch advocate of the benefits of regular meditation practice. Since leaving monastic life, Seth has set off to find a way to bring the transformative practices of meditation to people of all walks of life, all over the world.
Qigong for Inner Peace Teacher Training, with Maryellen LaBelle
Beginning in January, 2019
Steve, Maryellen and Dave Sholemson are excited to announce Qigong for Inner Peace teacher training in January, 2019. This training is appropriate for a wide audience. Whether you want to learn how to work with your body for health, teach this practice to others, or integrate into your yoga classes now is the time to sign up. Please visit Maryellen's website for the full schedule along with pricing and payment options.
A teacher since 2006, Maryellen is a certified qigong and yoga instructor, a Reiki Master and a Full Spectrum Energy Medicine practitioner. She passionately believes that there are many natural ways to heal and integrates Traditional Chinese Medicine into her unique approach to balance the body, mind and spirit.