Erik Spears … Lic.Ac., Dipl.Ac.


Erik is licensed as an acupuncturist (Lic.Ac.) by the Massachusetts Board of Registration in Medicine and certified as a Diplomate of Acupuncture (Dipl.Ac.) by the NCCAOM. He received his Masters Degree in Acupuncture (M.Ac.) from the New England School of Acupuncture (NESA) in 2013 with training in both Chinese and Japanese styles of acupuncture.
Erik completed clinical internships at the Boston Medical Center, Lemuel Shattuck Hospital, Pathways to Wellness, and the NESA Teaching Clinic. He was also the recipient of the 2013 Compassionate Healer Award, as nominated by NESA's Clinical Faculty and given annually to the graduating student who best exemplifies the characteristics of a compassionate healer.
Erik believes that one of the great benefits of acupuncture is the ability to treat each client uniquely, meeting each person at the place where they are open to healing. He finds acupuncture therapy to be an excellent modality for encouraging our natural healing abilities and for returning us to a more balanced and harmonious state.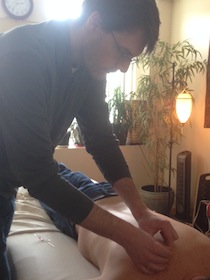 click to view
their biographies